MT Whitney Challenge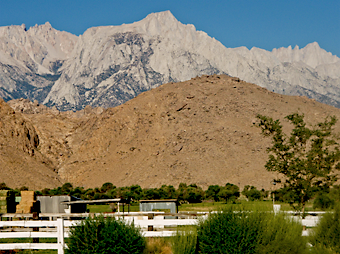 Day 1 – Arrive into Lone Pine
Today you make your own way to Lone Pine, California where the group will meet in the early afternoon. Once everyone has assembled we will transfer from the airport and arrive at our accommodation in the early evening. On arrival at our accommodation, and once you have settled in to your room, we will have a climb brief. This is also an opportunity to have a gear check and go through our route instructions prior to dinner. This evening we dine at one of the local restaurants in the town.
Overnight – Comfort Inn, Lone Pine – Bed & breakfast basis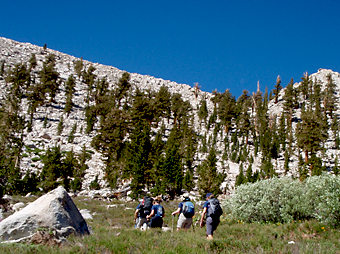 Day 2 – Hike to Rock Creek
This morning you rise early and enjoy breakfast before departing for Cottonwood Pack Station, the jump point for your Mount Whitney ascent. The drive will take around 40 minutes. During the trip we will climb to 10,000 ft. (3,048 m). After loading the pack mules we will begin our trek toward Mount Whitney. We commence with the climb over Cottonwood Pass situated at 12,126 ft. (3,696 m). It is during this climb that we will have our first experience at altitude. We then descend to our camp at just above 9,000 ft. (2,743 m). The hike to our camp at Rock Creek, which sees us entering the Sequoia National Park, is approximately 13 miles (21 km). We will enjoy spectacular scenery overlooking numerous alpine lakes and rushing streams.
Overnight – Rock Creek Camp – Shared tent – Full board basis excluding beverages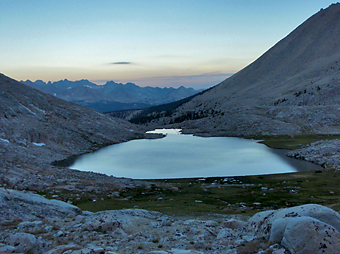 Day 3 – Hike to Guitar Lake
After a hearty breakfast we begin our day's trekking with the climb over Guyot Pass and our second acclimating test to 10,958 ft. (3,340 m). We then drop down into Guyot Flat and around Crabtree Meadows. This is an 8 mile (13 km) day concluding at Guitar Lake from which we will stage for our summit attempt. We will camp at just under 11,000 ft. (3,353 m) and rest surrounded by the numerous 14,000 foot peaks.
Overnight – Guitar Lake Camp – Shared tent – Full board basis excluding beverages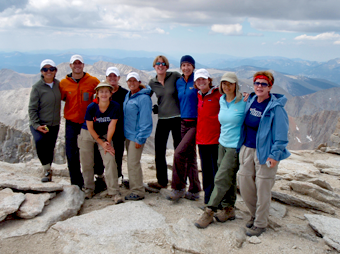 Day 4 – Summit Day
We begin the day early with a hot breakfast, plenty of water and a pack check prior to making the trek up to the summit. Our climb is approximately 5.5 miles (9 km) to the summit, with numerous switchbacks leading us to the highest point in the lower 48. After we summit we will have time to enjoy the surrounding views overlooking the Owens Valley to the east and the vast forests and lakes to the west. There is plenty of time to descend back to camp for a well-deserved dinner and celebration.
Overnight – Guitar Lake Camp – Shared tent – Full board basis excluding beverages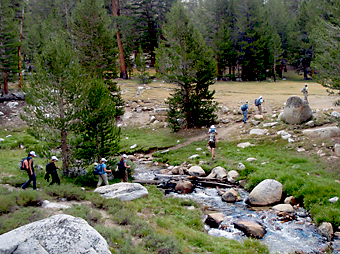 Day 5 – Hike Back to Rock Creek
On a high from our ascent today we retrace our steps back through Guyot Flats and into our initial camp at Rock Creek.
Overnight – Rock Creek Camp – Shared tent – Full board basis excluding beverages



Day 6 – Return to Lone Pine


This is our final day on the trail. With an early start we will arrive back at the trailhead for a late lunch. This afternoon there is plenty of time to refresh before enjoying the evening reliving our amazing adventure.
Overnight – Comfort Inn, Lone Pine – Bed & breakfast basis



Day 7 – Return Home


Today we will depart from Lone Pine and return home.