Our Team:
Our team of facilitators, trainers, consultants and adventure specialists bring a unique and effective blend of experiences in designing the perfect combination of proven learning systems and experiential adventures. Our first priority is your safety on any program and we pride ourselves on our ability to offer an effective yet safe learning environment.
All of our staff are trained in Wilderness First Aid and have facilitated outdoor learning for both large and small organizations.
Kevin Jackson – Owner Operator


Kevin Jackson has led several groups to international and domestic locations. In addition, Kevin works with Outward Bound Professional as a lead facilitator and program manager. With a background in business management Kevin holds a BS in Operations Management and a BS in Supply Management as well as an MBA specializing in Leadership and Operational Change. Kevin also consults in lean implementation and operational flow.
Glen Slattery– Program Director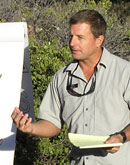 Glenn Slattery has been facilitating groups and teams for the past twelve years. His clients include a wide variety of organizations including public, non profit and fortune 500 companies. He is passionate about the amazing capacity of human development and experiencing life through adventure. Glenn has designed programs for companies all over the world. Formerly he was a member of the Sedona Fire Department specializing in rope rescue and as a member of the Department of Public Safety Helicopter rescue team.